September has finally taken center stage and the children have settled into their respective schools. What then of those left behind, those children not yet old enough to attend school, yet old enough to want to learn…
Let's start at the very beginning; it's a very good way to start…
Wooden stackers come in all shapes and sizes…fabulous for color recognition, shape, categorizing, number recognition, fine motor skills.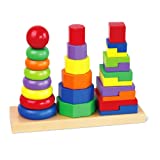 Or add in another angle, number recognition. The dots with the numbers and give the child something to associate the numbers with. Bigjig toys learn to count
Magnetic mazes are a great way to introduce the pencil…whilst working on fine motor skills, eye hand coordination and eye tracking: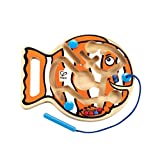 Melissa & Doug Magnetic Number Maze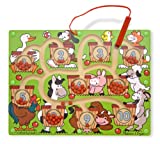 Another way to prepare for that pencil grip – tweezer games! These can take on many different disguises… for fine motor skills, gross motor skills, eye hand coordination:

Threading toys look quite appealing …. for fine motor skills, eye hand coordination:
Creative Toys : Wooden Threading Lacing Mouse and Cheese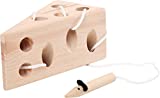 Pegboards, again come in many forms. They are useful for colour coding, fine motor skills, visual discrimination, visual memory: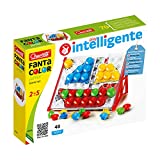 Quercetti Fantacolor Basic Baby Toy Set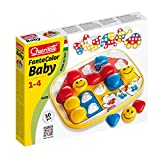 Surprisingly there are many simple non-verbal board games for colour recognition, turn taking, counting:

Orchard Toys Red Dog, Blue Dog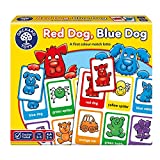 Pattern Blocks for visual memory, visual discrimination, patterns, shapes:

Melissa & Doug Magnetic Pattern Block Kit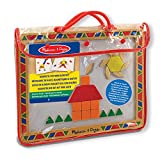 3D puzzles for non verbal reasoning, pattern recognition, visual tracking skills:
Toys of Wood Oxford Wooden Blocks Jigsaw Puzzles – 9 Cubes of Wild Animals in a Wooden Box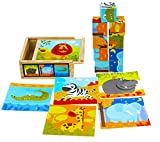 Dr Nanda Shaheen started her career in Washington DC at the Lab school, where she was teaching children with dyslexia, ADHD and dyspraphia from 1990 to 2000. She moved to the UK in 2001 when she was counselor at Nitingale School in Wandsworth, a school for boys with emotional & behavioral difficulties.
Before setting up her own private consultancy Dr Nanda Shaheen was at Eaton House, a traditional prep school for boys from 2003 to 2015 where she was in charge of their SENCO department assessing and screening boys aged 4-8.
Dr Nanda Shaheen obtained her PHD in education in 2000, her Masters degree in special education & learning disabilities in 1991 and a BA in human development. She was educated in English & Swiss boarding schools and attended primary school in Kensington. She understands how to teach children the fun way.
For more information and to ask all the questions you have regarding your children and their learning needs please contact Dr Nanda Shaheen