He Wore Dreams Around Unkind Faces: An Exhibition By Noel Fielding at The Royal Albert Hall
He is a bit whacky…and very colourful. So if you don't mind a little bit of the odd, mixed in with the slightly far out, then Noel Fielding's exhibition at the Royal Albert Hall may be right up your street!
Fielding is a comedian, actor, writer, DJ, artist and TV personality. You may know him for his flamboyant portrayal of Vince Noir from BBC's hit comedy, The Mighty Boosh – co-written by Fielding and his mate, Julian Barratt.
Educated at Croydon Art College in South London, tutored by Dexter Dalwood, Fielding then studied for a BA in Graphic design and Advertising at Buckinghamshire Chilterns University College (now Buckinghamshire New University). Although not widely known, Fielding has been showcasing his works around London since 2008.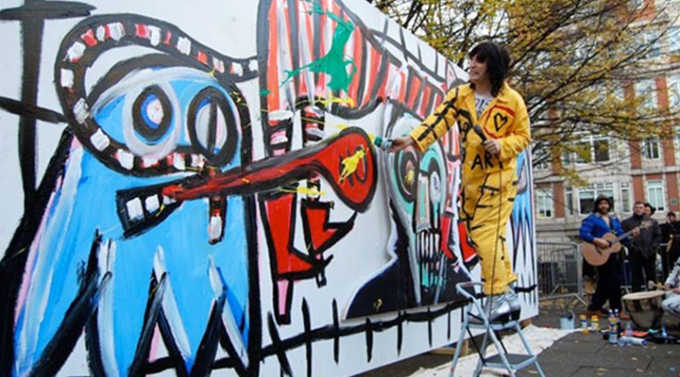 His first solo exhibition at Gallery Maison Bertaux, entitled 'Psychedelic Dreams of The Jelly Fox' was a sell-out, as was his second; 'Bryan Ferry Vs the Jelly Fox, located at the same gallery. The characters from this video installation appeared on his E4 programme, 'Luxury Comedy Show', with music composed by Serge Pizzorno of Kasabian; a close friend of Fielding.
This latest exhibition includes portraits of well-known musicians, from The Beatles to Elvis Presley, to more experimental pieces. Fielding's techniques include drawing, painting, collage and multimedia installation. He even created many of the animated sequences, costume and make-up designs for The Mighty Boosh and the shows subsequent tours and performances.
With his far out imagination, and penchant for the colourful, we can certainly imagine that this exhibition will be a success; a foray into the weird and wonderful!
The exhibition is free to anyone attending performances between March 7th-17th, and free to the general public on the 7th, 14th and 15th March between 10am and 1pm.